Ladies and gentlemen here we are! The SWISSITALIA SUMMER FESTIVAL is coming to GENEVA! On 2 July 2022 at the Village du Soir (Geneva) the first edition of the Swissitalia Summer Festival will be held in the context of the "Villaggio Azzurro"! What exactly is it about? It will be a party, the first big party dedicated to Italian music after the Covid years, a party born and made for everyone, young and old and for all tastes: we will have Jazz, Soul, Rock Pop and Disco music with singers and players and then above all a lot of food 100% Italian with food trucks with Luigia's Pizzas, Ajo Ajo's wraps, Casa Mozzarella's sandwiches, Lecce's pasticciotti, ice creams and "Caffettino" coffee!
It will be a party for everyone, we will have entertainment for children as early as 4pm and then the evening will be dotted with great events, from the official Miss Mamma elections, through the performances of our artists and then the great concert with special guest the great violinist Elsa Martignoni who was also part of the Sanremo orchestra this year!
Here is the program of the day
16h00 opening of stands and bars
17h00 beginning of animation for children 3-10 years in the dedicated area
17h00 opening Teenager disco room for boys and girls from 13 to 19 years
18h00 beginning of the "Italian style Aperitif" with Smootalia and Tony Scott (main outdoor area)
20h00 Show "Miss Italian Mother 2022" with parade and official elections of the most beautiful Miss Mamma!
21h00 Mega Concert ROCK of the "Isteresi"
21h00 Beginning of the House-Tech House evening with "Cristian Cuccurullo DJ"
 
-> Special Guest of the evening will be ELSA MARTIGNONI who will enchant us with her LED electric violin all night long!
Love Therapy Zero was born around a mission: to offer moments of laughter and escape to children in hospital or with disabilities and has a great activity in the pediatric ward of the University Hospital of Geneva (HUG) Hopital des Enfants
During each visit, Love Therapy Zero volunteers open a window to the imagination through improvisations adapted to the child's means. They allow him to "escape" and rediscover his universe of laughter and games.
We have decided to support this Association by making Plexiglass boxes such as these available to all the participants of the Swissitalia Summer Festival where you can donate tokens or "half tokens" that you do not use anymore.
For each Token collected we will donate 5 CHF to Love Therapy Zero, and in addition for every 100 Token collected, Radio Swissitalia will donate 100 additional Tokens for an additional value of 500 CHF.
You can know more about Love Therapy Zero and also give your contribution by connecting to this link:
http://www.lovetherapyzero.com/
Instagram 
https://www.instagram.com/lovetherapyzero/
Alcuni brani degli artisti della serata
Not just good Italian music ... 🙂
Also inside the "Villaggio Azzurro" you will find many good things to eat! That is the stands and food trucks of: Luigia, with a real fire oven that will make excellent pizzas, Casa Mozzarella with a fabulous show of freshly made mozzarella and its inevitable Apulian focaccia (or as they say "la fcazz .. ") fragrant, AJO AJO with hot and sweet wraps, plus a beautiful artisan Gelato stand will freshen up the day! The MyOlive Stand will also give you the opportunity to adopt an olive grove in Tuscany and buy the oil produced. And could italian coffee be missing? Of course not! The Caffettino with its ape-bar will be available to everyone! Yes, because coffee is offered for everyone and without limits by Radio Swissitalia!
The Italian style will be unmistakable from afar thanks to the presence of the Alfa Romeo Garage Lory dealership, main sponsor of the event that will bring 2 fantastic brand new Alfa Tonale as soon as they come out and will give us a special price for all participants !! And then the Diego Napoli and Baltea Boutique will have pop up stores inside the Village to present 100% made in Italy products of pure Italian fashion!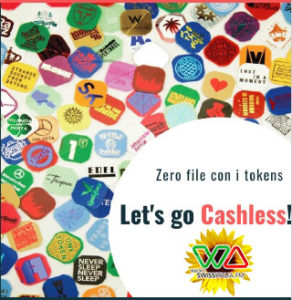 Goal: no queues for food trucks!
To eliminate the queues at the food trucks and simplify payments, all the products of the food truck partners of the event (sandwiches, pizzas, wraps, sweets, etc.) can be purchased EXCLUSIVELY WITH TOKENS: you can buy your tokens at the cash desk main entrance and pay with tokens for all the good things to eat that will be available at the food trucks of the evening.
In this way the payments will be fast, the sales price lists simplified and … zero queues!
–>The entrance ticket of the festival costs only 10.- CHF and includes: <–
entrance to the festival
Radio Swissitalia welcome gadget
access to all areas (children's entertainment and all shows included)
unlimited coffee at "Il Caffettino"
Special for Families and Mothers: FREE ENTRANCE (see conditions below 🙂
for all mothers accompanied by children,
for children under 12
for all mothers who will participate in Miss Mamma (even if not accompanied by children)
Advance ticket sales are available immediately at the link below or you can purchase directly at the cashier  with zero extra fee